Today we are going to tell you 9 most beautiful and dangerous mountain stairs in the world, which are very dangerous to climb, but after climbing, the most beautiful view is seen which tourists dream of seeing.
1.Kalavantin Durg
Via ferrata Donnerkogel Intersport Klettersteig in the Austrian Alps, near Gosau. Stairway to Heaven concept.
The one which we have placed at number 1 in this 9 dangerous stairs of the world is Kalavantin Fort, in fact it is at the top of our most dangerous mountain stairs.
The most intimidating thing about this stairs is that all the stairs we have talked about so far have a chain or something for safety. But nothing like this has been installed in this ladder, that is, you will have to climb and descend without safety, in such a situation, you must be feeling that when there is no safety, then there will be no special danger.
But let us tell you that after climbing the ladder, you will see only a ditch below, where its peacock is such that it becomes difficult to move even a step, in the time of rain, soil accumulates on the top of the ladder, due to which the foot slips. In such a situation, this doubt must have been erased from your mind that it is not dangerous. Every year thousands of people come to climb it, but some people who do not take it seriously, they also lose their lives, many such cases are also seen from here every year.
2.The Sky Ladder
Sky Ladder is located in Austria, number 2 on our most dangerous stairs. Actually, only people who are not afraid of height can climb this ladder and are completely in fitness (some special tips for fitness) because this ladder is situated at a height of 2296 feet, the length of this ladder is 140 feet and it is Also known as stairs and heaven. This ladder is made of steel anvil, so its strength increases, even if you are very courageous, there will be some fear in climbing this ladder.
The person crossing this stairs has to take great care of his safety because if you fall from this ladder, then you will fall directly into the 2300 feet deep ditch. However, even after having this much risk, many people come here because after crossing it, the amazing view from the mountains becomes the place of the most beautiful mountain stairs of the world.
3.Huashan Mountain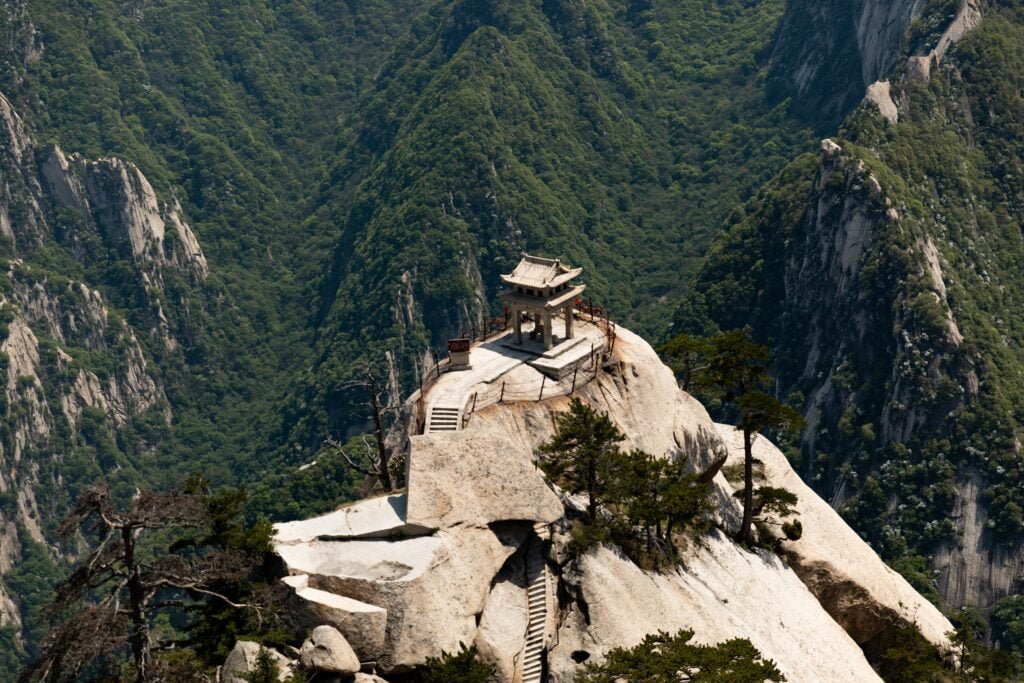 Hushan Mountain is a very dangerous ladder located in China, which is placed at number 3 in the Most Dangerous Mountain Stairs. The stairs are very straight, if you climb on it, you have to keep your weight lose for that. So don't make the mistake of looking down because you will not see the stairs below, if you slide a little on the stairs you will fall straight down and there is no ladder. In this you must have come to know how straight this ladder is. It has a great range of iron to help you climb but it is still very difficult
This road is also known as the Road of the Heaven, you must be thinking that hardly anyone will climb such a dangerous place, but let me tell you, thousands of people come here every year to climb it. Because after reaching the top of it, the beautiful view that you get to see, you will hardly get to see it anywhere else.
4.Via Ferrata
Via ferrata is located in Switzerland Switzerland is considered to be the most beautiful country on the one hand and on the other side one of the most dangerous mountain stairs in the world, Via ferrata is also mentioned on this.
The special thing about its staircase is that it is not made of any brick or stone, it has been made of peacock iron bars inside the mountain. Before climbing this stairs, you have to make complete arrangements for your safety. Because this is such a big ditch from where nothing is going to be found after falling.
5.Chand Bawdi
Chand Bawri is not a mountain, although till now we have told you only about those places in which one had to climb the stairs of the mountains from the bottom up. But it is different from them, my friends, in this you have to step on the stairs to go from top to bottom, not top to bottom. It looks like a deep ditch, there is a wall for support on one side to go down in it, but nothing to support the other side, so you have to go down very carefully in it.
This Chand Bawri may not seem very old to you to see, but I say once again, don't go for show, it is not 500 years 600 years old but 1200 years old, whose stairs and structure are safe till date. It looks very beautiful to see if you have a drone then do not forget to see the view from above.
6.The Haiku Stairs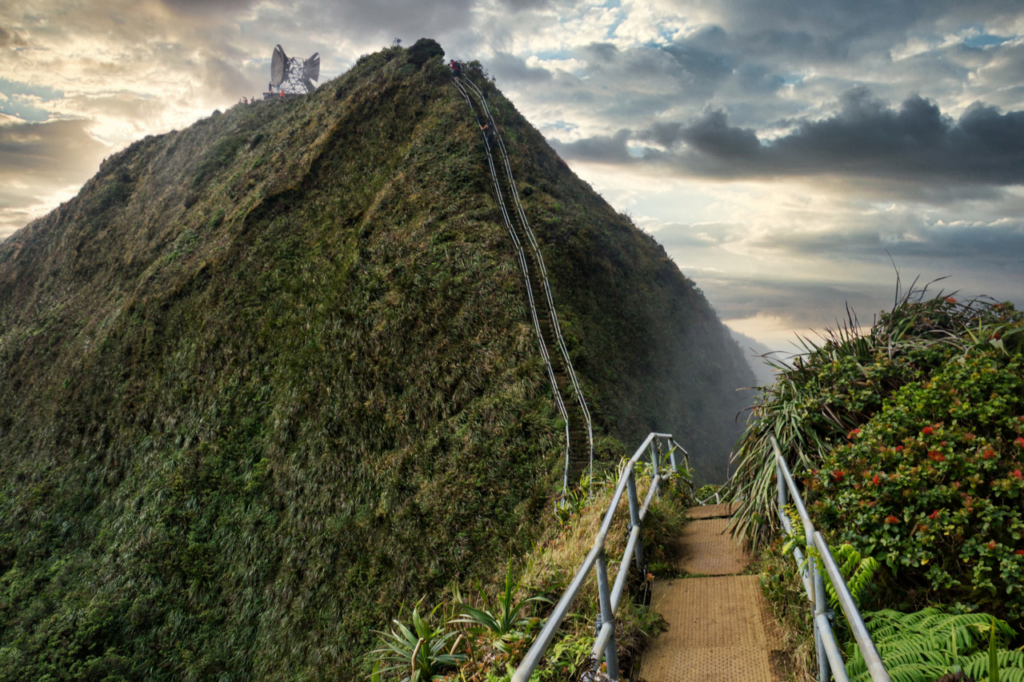 The Haiku Stairs This mountain is located in Dubai, which has 3922 steps, when looking at this staircase from above, it looks as if someone has made sand and put some wood on it, climbing this ladder is a very risky job, especially during the rains. In the time of rain, because at this time a lot of forest grows in this mountain, due to which sometimes the stairs are not visible to us. It will be great to see.
In this, a long rod has been given on both sides for support, with the help of which you can easily climb it, but this journey will not be easy in the rain.
7.Guotape Rope
This mountain is located in California, which has a height of 2135 meters above sea level, it looks like a very beautiful mountain, in which 650 steps have been made to go to the top of the mountain, it seems as if someone has climbed this mountain to some extent. A pearl rope is tied to the mountain. Now let's talk about how dangerous it can be, there is no such thing as dangerous in it,
But don't go looking. When you climb this stairs you will feel a little slippery, not slippery, it is slippery, in this stairs water keeps coming down from above all the time, due to which many people slip from the stairs and later slip. slips, very serious injuries. That's why we have placed this Guotape Rope Salt Mountain in California in the list of the most dangerous stairs in the world.
8.Harihar Fort
It is located in Nashik in the Indian state of Maharashtra. Harihar Fort should be placed in the list of Most Dangerous Mountain Stairs as well as being beautiful because the beautiful view from the mountain after crossing it is worth seeing. If so, then it is beautiful, but let us tell you that reaching here is no less than taking any risk because this ladder has been built for many years, due to which it has broken from many places and has become dangerous too.
Climbing this ladder and climbing the mountain are the same thing because small pits have been made on the stairs for support, on which you will be able to climb through your hands. It was built during the time of the Maharaja so that no one could attack it because there was only one way to go, which had to be crossed by this dangerous step of Harihar Fort. Every year thousands of people come to see it.
9.Pica da Tijuca
Pica da Tijuca This ladder, located in the Tijuca Forest of Brazil, is very dangerous, in which many people also get photos taken with their mobiles. By the way, tell that the world's first 200Mp camera phone is being released for taking photos, so that you can make the most beautiful stairs in the world by taking photos with this most dangerous mountain stairs, there is no support except a chain, if you do this. After climbing the CD, look down, you can lose your senses. Because it looks quite straight in appearance, so this staircase has been made by breaking it between the stones.
It takes about 6 hours to climb it, if you feel hungry soon, then you will have to take food along with you. But you cannot eat while climbing the beach because thousands of people climb here every month, you cannot stop anyone. these are the best mountain stairs
Important notes for you
We hope that you all must have liked this post, we keep bringing such good posts for all of you, if you need some information about this topic, then you can definitely comment, I will definitely try to reply to all your comments. Thank You